GOPIO International President Lord Diljit Rana, who is also honorary consul for India in Northern Ireland, welcomed the Queen's Baton Relay for the forthcoming Commonwealth Games in India at a special ceremony at Belfast City Hall.
The Baton was showcased at the annual dinner of the Northern Ireland region of the Institute of Chartered Secretaries and Administrators (ICSA) held in Belfast City Hall. Lord Rana, a prominent Northern Ireland businessman, was a guest speaker at the ICSA event.
The baton will cover over 190,000 km across Commonwealth countries over 340 days and will come to Delhi on June 25. It will also be one of the longest relays in the history of the Commonwealth Games.
It will reach Delhi on October 3, 2010, when the Queen's words will be read aloud at the opening ceremony.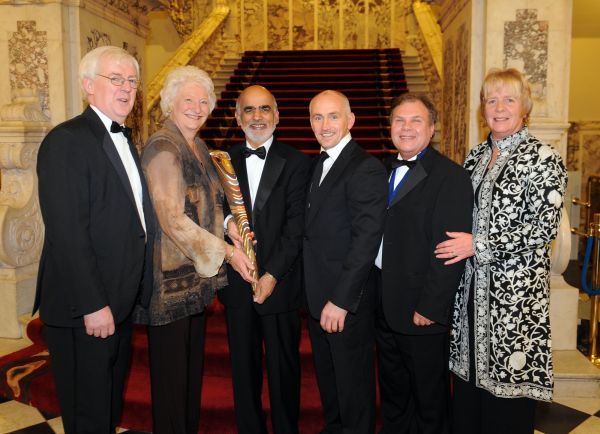 The Baton Relay is one of the great traditions of the Commonwealth Games.
The Queen's Baton Relay, similar to the Olympic Torch Relay, is a relay around the world held prior to the beginning of the Commonwealth Games.
The Relay traditionally begins at Buckingham Palace in London as a part of the city's Commonwealth Day festivities. The Queen entrusts the baton to the first relay runner. At the Opening Ceremony of the Games, the final relay runner hands the baton back to the Queen or her representative, who reads the message aloud to officially open the Games.
Our picture shows Lord Diljit Rana, centre, with the Baton. He is pictured with Dame Mary Peters, an Olympic Gold medal winner in the Munich Olympics, boxing champion Barry McGuigan and Gerry Whittle, Northern Ireland chairman of the Institute of Chartered Administrators and Secretaries.